Below you will find resources that can help 2019 LTEN Excellence Awards finalists publicize their achievement, including logos and a press release template, as well as information on ordering duplicate trophies, and social media images.
Winners and finalists will be featured in the special edition of LTEN Focus on Training magazine, distributed digitally to more than 6,500 life sciences training professionals worldwide.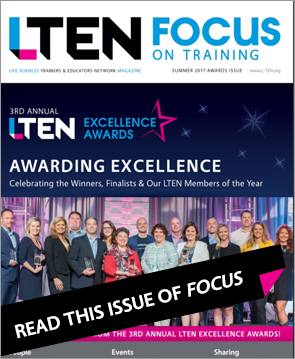 This year's event will be live-streamed on Wednesday during the general session at 10:15 AM. You can watch the entire 2018 ceremony here.

---
LTEN Excellence Award Logos
Feel free to display your LTEN Excellence Award finalist logo on your website, social media pages, in business development and sales materials, as well as email signatures and internal communications. Logos appropriate for online distribution are available for download below. Right click the appropriate logo to download.




For higher resolution .jpg images, appropriate for print distribution, please email Nannette Nolan, nnolan@L-TEN.org
---
LTEN Excellence Press Release Template
You may also use the press release template to announce your achievement or to write your own press release announcing your recognition. When writing your own press release, you are welcome to use or edit any parts of the provided template, as appropriate.
View the LTEN Excellence Awards Finalists press release and the LTEN Hall of Fame press release.
---
Photos & Awards Video
Find 2018 photos for the entire event include Wednesday's photos here. This year's awards photos will be scheduled during event hours at the LTEN Booth. A photo schedule will be released shortly.
We also recorded the entire 2018 ceremony and you can view that here.
---
Buy a Congratulatory Ad for Your Team, Client or Self
Put a congratulatory awards ad in the August digital issue of LTEN Focus on Training magazine. Reserve a full, half or quarter page by June 25. Art is due July 9. Details here. RSVP to Gregg Haunroth at ghaunroth@L-TEN.org.
---
Poster Presentation
All award participants are encouraged to participate in the Poster Presentation at the Conference. Posters will be on display from Tuesday – Thursday with an opportunity for you to host a poster presentation on Thursday morning during breakfast and the morning break. Complete details, specifications, deadlines and shipping information can be found here.
---
FAQ: What Do Award Winners Receive, and How Will They Be Recognized?
Winners receive a specially designed trophy and recognition on stage at the LTEN 48th Annual Conference during the Keynote Session in the Grapevine C&D Ballroom at 10:15 AM, at the Gaylord Texan in Grapevine, TX.
Special Digital Summer Issue of LTEN Focus on Training Magazine
Winners will also be recognized with:

Acknowledgment on L-TEN.org website and across all LTEN social media
Featured in the LTEN member eNewsletter
---
FAQ: If Awarded, Are There Duties or Requirements Expected for Me or My Organization to Perform?
(i.e. attend a certain amount of events? Be a part of the Advisory Committee? Chair subcommittee?)
Winners are not required to participate in any activities but are strongly encouraged to be present at the annual conference. After the conference, we want to feature the winning organizations and teams and may ask for quotes, pictures or interview to feature in our various communication channels. As a finalist, we invite you to join us at a discounted rate. The promo code will be emailed to finalists.
---
LTEN Excellence Awards 2019 Trophies
Award Winners receive complimentary customized etched crystal trophies, measuring 9 inches in height. Please be sure to reply to the official winner notification email to confirm the business mailing address to which the trophies should be mailed if you will be unavailable to attend the conference in person.
In addition, duplicate trophies are available for order. Email Nannette Nolan, nnolan@L-TEN.org for an order form.
---
LTEN Excellence Awards 2019 Social Media
We would be thrilled if you emailed us or posted on Twitter, LinkedIn and Facebook any photos of the winners with their trophies. Photos will be posted online, as well as tweeted and shared on LTEN social media channels. Be sure to follow @yourLTEN on Twitter and to use hashtag #LTEN2019.
If you have any other questions about awards publicity that are not covered here, please contact Nannette Nolan at nnolan@L-TEN.org.