LTEN Field Trainers Scholarship
Celebrating Field Training Excellence
LTEN is pleased to announce our first-ever Field Trainer Scholarship. This special scholarship highlights and rewards field trainers who have completed innovative training projects and demonstrated ahead-of-the-curve thinking.
We are thrilled to honor Julie Fassel and Rosa Hanks. Join us in congratulating these two learning leaders!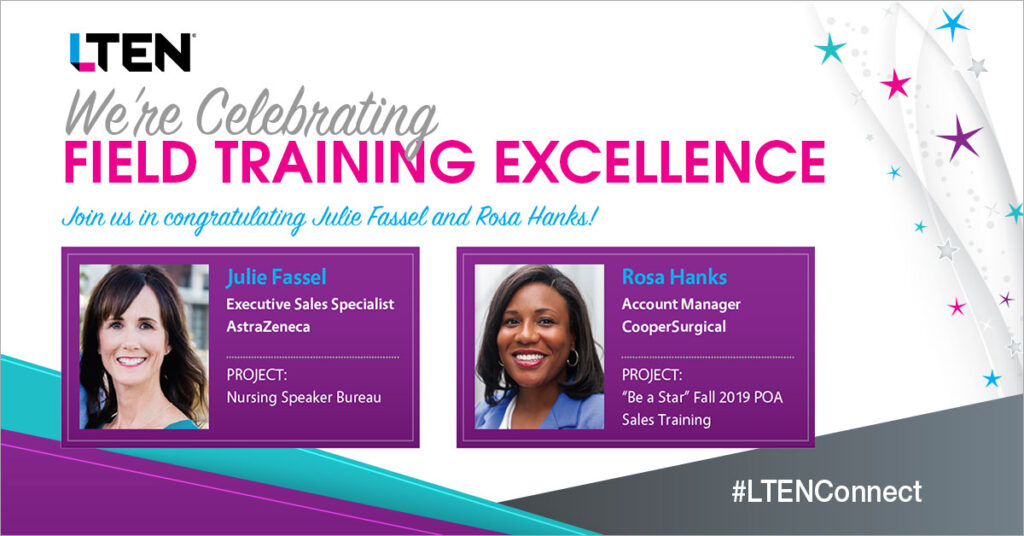 ---
Scholarship Eligibility Criteria
The nominee should currently be serving in the role of Field Trainer in their organization
Submission should:

Self-nominated, or submitted by a Direct Manager, Senior Leader or fellow Field Trainer (with Direct Manager approval documented)
Include at least one professional reference
Describe in detail an innovative training project the Field Trainer completed including business impact, delivery methods, technology used (if applicable) and measurement metrics (such as number trained/impacted, survey results, cost savings). The application can include attachments detailing the project
Be in reference to a current LTEN member (preferred)
---
Scholarship Winners Receive
Complimentary full conference pass the 2021 LTEN Annual Conference in Colorado, or any applied toward any LTEN event from May 2020 through June 2021 (a $2,144 value)
LTEN Focus On Training magazine article will highlight the two winning Field Trainer projects in the special Awards issue in the fall
Field Trainers Scholarship winners will be recognized at the LTEN Connect Virtual Learning Forum on June 9, 2020.
---
Terms & Conditions
Registration for a full conference pass for the 2021 LTEN Annual Conference or another LTEN event from May 2020 through June 2021 will be covered by LTEN
Nominee is responsible for costs associated with hotel reservations, all transportation outside of shuttles, food, and incidentals

LTEN has secured a limited number of rooms at reduced rates for each of the LTEN live events
The full conference pass includes breakfast and refreshment breaks Tuesday-Thursday and lunch on Tuesday-Wednesday
LTEN workshops include breakfast, refreshment breaks and lunch
Two LTEN Field Trainer Scholarships are available to be awarded each year
Award is limited to only one recipient per organization per year
Scholarship winners are determined based upon project merit by a panel of training leaders
---
Judging & Winner Selection
Applications will be reviewed by the LTEN Field Trainers Committee members. The committee will select three to five finalists and submit those candidates to the LTEN Board of Directors. The board will select the two winners.
---
If you have questions about the scholarship, eligibility or application process, please reach out to LTEN via the handy chat or email us at info@L-TEN.org.
UP